WHAT IS A

MORTGAGE BROKER?
What do mortgage brokers do? A mortgage / finance broker is essentially a go-between customers and a home loan lender. They assess your financial needs, recommend the best home loan products to suit your unique situations, and packaging and presenting your case in the best light to improve your chance of approval and getting the best deal in the market.

Why

use a mortgage broker?
Twelve Grains Capital Melbourne mortgage brokers compare thousands of home loan products across over 50 lenders on our panel, including the big banks.
Instead of approaching multiple banks and risking multiple hits on your credit file, let our finance brokers do the hard work for you, to save you time and money.

With extensive experience in the industry, our brokers are able to explain the financial aspects of obtaining home loans in lament terms, so you'd have more confident going forward.

Aside from helping you borrow within your means, our brokers act with your best interest in mind, which means, it's our duty to find you the best deal available on the market that suits your needs.
Who

can mortgage brokers help?
We help property buyers and investors achieve their goals, for example:

Buying your first home

Building your investment portfolio

Consolidating your debts

Restructuring your home loans

Low-doc loans for business owners

Buying your next property

Refinance to get a better deal or cash out

Purchasing with your superannuation funds

Constructing your next home
HOW

DO I QUALIFY for home loan?
With so many home loan products out there, very rarely can we not find a solution for even the most unique scenario. But of course, as the risk goes up, so does the rate.​
​
Ideally you'd want to have 20% saved up for deposit. But if you couldn't achieve that and wanting to purchase your first property, we could do away with at least 8%; 5% to cover for deposit, 3% for other costs.
​
Banks would also generally lend 6x of your annualise gross income. But don't let the banks tell you how much you can borrow. Repayments on 6x of your gross income translates to over 30% of your take home pay. Know your limit. Ideally you'd want to be in the job for at least 2 years, but again, we can work around it if you haven't.
​
Banks will also look at your credit history to determine if you're a worthy borrower. If you have some blemishes in your credit file, doesn't always mean you'd get knocked back right away. With the right explanation, you can still be considered for a loan, albeit the higher rates.
WHEN

SHOULD I APPLY for a home loan?
Turnaround time for most banks these days are around 3-8 weeks. So ideally, you'd want to have an application in a month or two before you're going to settle.

It's never too early to speak with a broker, however. If you're not ready to go today, a broker could help you set a saving plan or plan your lifestyle accordingly to get you "application ready".
why

Twelve Grains capital mortgage brokers?
Regardless of your situation, Twelve Grains Capital's mortgage brokers can help you achieve your desired outcome. Our areas of speciality include:
​
- Refinancing
- Investment Loans
- First Home Buyer
- FIFO Home Loans
- Lo Doc/Non Conforming Loans
- Construction Loans
- Debt Consolidation
- SMSF Loans
- Line of Credits
- And much more!
You've considered your options, and decided you're ready to apply for a home loan. The next step is to get you qualified by following the link below. Don't worry, this won't appear on your credit report.
FAQ
Apa itu waitlist challenge?
---
Sebuah periode di mana kamu berkesempatan untuk mendapatkan akses eksklusif lebih cepat ke aplikasi Nanovest, dan juga mendapatkan rewards yang menarik! Kamu bisa menang 100.000 NanoByte Token (NBT) dalam periode ini. Kunjungi nanobytetoken.io untuk pelajari lebih lanjut mengenai NBT.
---
Apa itu NanoByte Token (NBT)?
---
NBT adalah crypto token dari Nanovest. Kamu bisa dapetin NBT dengan download Nanovest & ikutan waitlist challenge. Selain itu, kamu juga bisa dapet NBT dengan ngelakuin berbagai aktivitas dan transaksi setelah kamu dapat full access ke semua fitur di Nanovest.
---
Kapan saya bisa mulai investasi saham & aset kripto di Nanovest?
---
Saat ini, aplikasi Nanovest sedang dalam rilis terbatas. Kamu bisa mulai investasi setelah kamu dirilis dari waitlist. Kami akan memulai proses rilis pada 10 Desember 2021. Semakin tinggi posisimu di waitlist challenge, semakin cepat kamu dirilis & bisa menikmati seluruh fitur di Nanovest! Ayo download Nanovest & join waitlist sekarang dan jadilah yang pertama untuk nikmati semua fiturnya!
---
Apa itu Nanovest?
---
Nanovest adalah aplikasi investasi revolusioner di Indonesia. Di sini, kamu bisa investasi saham luar negeri & aset kripto dalam satu aplikasi, pertama di Indonesia. Selain itu, kamu bisa transfer uang gratis ke siapa pun & kapan pun! Semua investasi di Nanovest mulai dari Rp 5ribu aja, bebas biaya transaksi, dan tentunya gampang banget. Kamu juga bisa dapetin berbagai hadiah menarik, mulai dari uang, aset kripto, dan masih banyak lagi. Jadi, yuk download Nanovest & ikutan waitlist sekarang!
---
Sampai kapan waitlist challenge akan berlangsung?
---
Waitlist challenge dimulai pada 22 November 2021 dan akan berakhir pada 10 Desember 2021.
---
Apa yang terjadi ketika saya masih berada di dalam waitlist?
---
Kami berusaha keras untuk menghadirkan Nanovest secepatnya kepada kamu. Kami akan merilis semua user secepat mungkin, dan tentu saja kamu akan diberi tahu jika sudah dirilis! Penasaran dengan aplikasi Nanovest? Yuk, intip lebih lanjut di bagian "News" di halaman Utama aplikasi Nanovest
---
Bagaimana cara kerja waitlist challenge?
---
Setelah kamu daftar ke Nanovest, kamu bisa lihat posisimu di waitlist / daftar tunggu. Ajak teman ke Nanovest sebanyak-banyaknya pake kode referral kamu. Saat temanmu daftar ke Nanovest pake kode referralmu, posisimu di waitlist akan naik. Kamu dan temanmu juga akan dapat masing-masing 20 NBT.
Selain itu, kamu juga bisa menang 100.000 NBT tergantung dengan posisimu di akhir periode waitlist challenge (lihat tabel di bawah):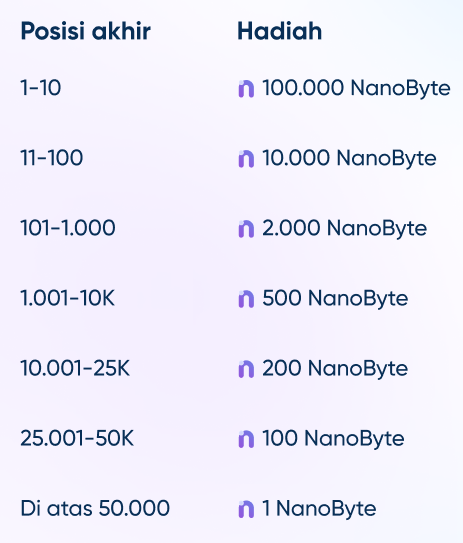 ---
---